In the past, iPhone users could not track their phones without jailbreaking (remove software restrictions put on the iOS operating system) their devices. This is especially due to the fact that iOS systems are not open source. This also means that you cannot perform stuff like installing apps that aren't in the App Store without a jailbreak.
But thanks to the advancement in app technology, you can now know how to how to track an iPhone from an android phone. Best of all, you won't even need to install any software on the target iPhone, let alone jailbreak the target device.
Part 1: How to Secretly Track an iPhone from an Android Phone Using Cocospy
Your answer for the best app to track an iPhone using Android is Cocospy.
Cocospy is an advanced Android and iOS tracking app that lets you monitor everything from a target mobile phone or computer. The app is designed to help to help you monitor your kids to protect them, track employees to increase productivity, or even retrieve the information you need from a person of interest. Best of all, you can do this just by using your Android phone.
Why Cocospy?
What makes the app even more attractive is the fact that you don't need to install Cocospy on the target iPhone. To track the iPhone, you just need to know the iCloud credentials used on the specific iPhone.
Further, Cocospy does not just enable you to track an iPhone using Android. It is a fully-featured app that offers so many other features without even requiring rooting or jailbreak. You can monitor phone calls, SMS messages, contacts,  live location, and media.
The app also ensures you won't have to be put in a situation where you are caught monitoring someone's phone. It does this by implementing a stealth feature that enables it to run in the background and do its activities without raising any alarm. It is also disguised as something different such that even if the owner goes through the phone's apps, they won't suspect anything.
Don't Miss: How to Track an iPhone Without Them Knowing
How to track an iPhone from an Android phone
Getting started with Cocospy is quite easy, and you don't even require much.
Sign up. Signing up is free, and you only need your email and a password
To connect to the target iPhone, enter its iCloud account and password.
Start tracking the iPhone.
Using Cocospy Android location tracking, you can now track the iPhone's location. You can do this by either checking the live location, or reviewing the places they have visited.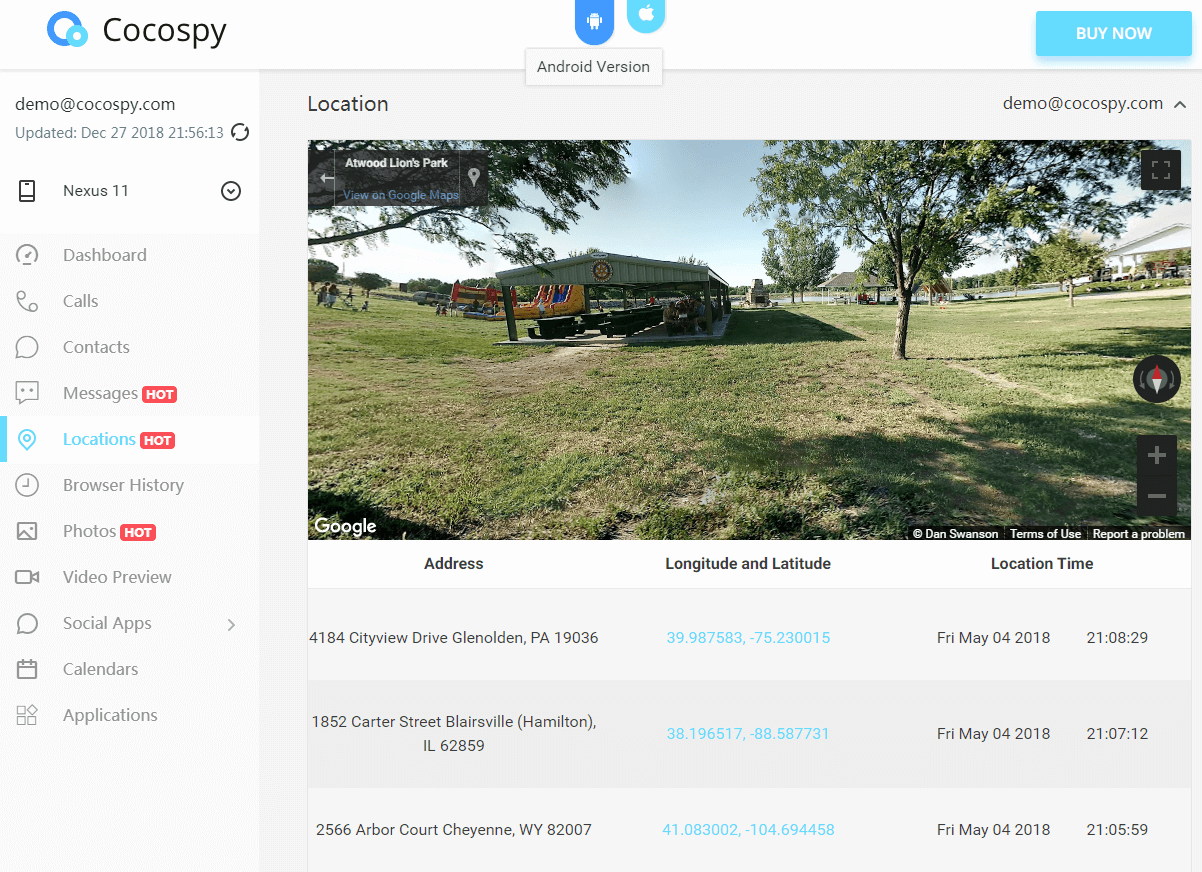 Also Read: How to Track a Cell Phone Location for Free with the Number of the Cell Phone
Part 2: How to Track an iPhone from an Android Phone for Free
iOS devices such as iPhones always sync their vital information to iCloud. From there, the information can now be easily tracked using cloud storage without the device being accessed. All you need is sign in with their account. Also, ensure the iCloud feature for back up is enabled.
Now, log-in to the iCloud account that is already synced with the target iPhone, using your Android phone browser. Remember that you need the Apple ID and the password for the account. Find My iPhone also needs to be turned on, on the target iPhone.
To turn it on:
Open the Settings app on their iPhone or iPad.
Tap on "Apple ID" at the top.
Tap "iCloud."
Scroll down and click "Find My iPhone."
Switch it on.
On your Android browser;
Navigate to iCloud.com
Log into their iCloud account.
Click "Find iPhone."
If prompted, enter the Apple ID and password.
Click on "All Devices" at the top, and select the desired one.
The device will now be tracked, and its location will appear on the map
Part 3: Use Google Timeline to Track an iPhone from an Android Phone for Free
It's not once that you have seen a pop-up on your phone maybe saying 'Enable Your Google Location'. Google and Apple use this information when you lose a device although some of us just scrape off the notification and disable the location services.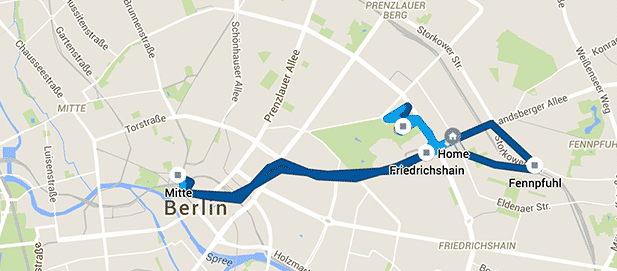 When Google Timeline collects your location data from your iPhone, it maps it out. Google stores location data in a good-looking interface that is easily accessible. You can , therefore, see wherever you have been using this tool.
However, you can also use this tool to track an iPhone from an Android phone if you are crafty enough. All you need to do is sign in your browser with the target iPhone email account. Whenever the device is connected to the internet, its live location will always be available on Google Timeline.
To track a person, visit google.com/maps/timeline on your android phone and select "Today" on the top left side of the screen. You can scroll the timeline and see all the visited places. You can also pick a particular day that you are interested in.
You May Like: How to Track an iPhone by Number
Conclusion
Gone are the days when you just had to take somebody's word for everything. You now have the capacity to use an Android device tracker and know how to track an iPhone from an Android phone.
You may be looking to track a lost iPhone, or you just need to monitor your kids, employees or spouse. You can now do so with the tools above. Cocospy is however dedicated for that purpose and therefore way more effective than the other two. Sign up free and always stay in the know!